!Like my ugly HTML code? [heh]>
| | | |
| --- | --- | --- |
| | | |
| | |
| --- | --- |
| Sir Wulf | (Last updated: 2011-06-14 11:46:58 ET) |
Clan O'Rourke coat of arms
About Me
Hello, my name is Wulf. I am 38 years old (as of 2011), married with six kids ranging in age from 17 to 4.. At an early age I knew I wanted to be a warrior and learned any combat form I can. I come from a family with a long history of Army service so it was shock to the family when I enlisted in the US Marine Corps when I was twenty. My family is Scots-Irish on my mothers side and Germanic on my fathers.
I follow the Norse or "vikingr" path while my wife follows a more shamanic way. I am NOT an Odinist, skin or Nazi. The path I follow has NO room for judging based on outside appearances. A man should be judged on HIS deeds, not the deeds of his race. I live my life as I think the Gods require of a true man and warrior. Honor, courage, truthfulness and steadfastness are the marks of a man.
I have studied many combat forms over the years including Thai kick-boxing, military Tae Kwon Do, practical CQB (close quarters battle) shooting. Recently I have been learning what I can of Russian Systema. I have only recently began to "formally" learn Western Martial Arts since I have been described as a "natural" weapon fighter. I seem to be able to pick up any weapon and use it effectively.
Clan O'Rourke coat of arms
My "Persona"
Clan O'Rourke coat of arms
Clan O'Rourke coat of arms
Clan O'Rourke coat of arms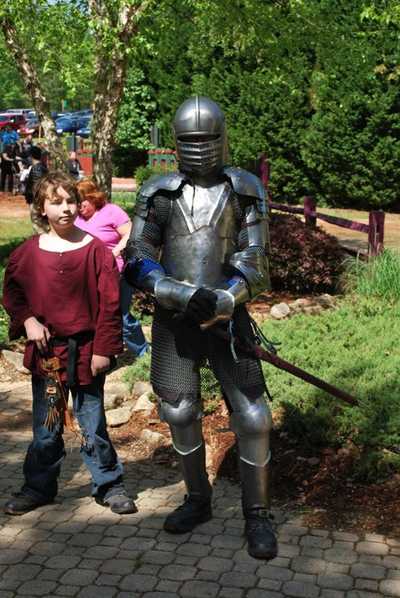 my old plate harness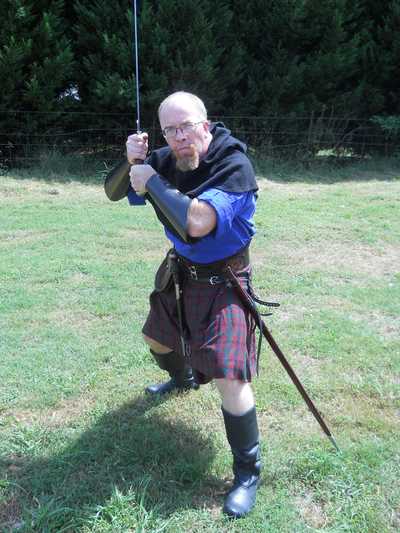 "high ready"