| | |
| --- | --- |
| Sir Micheil MhicAodia | (Last updated: 2013-06-18 13:04:08 ET) |
[Facebook]
Sir Micheil MhicAoida (Eilean Donan Castle)
Sir Micheil Grey MhicAoida the man
Sir Micheil Grey MhicAoida born Michael Grey McCoy On this day of the lord the first of May in 1982 in Overland Park, Kansas city, Kansas to Dennis Grey McCoy Lenexa Firefighter and commissioner of the Clan Mackay for the state of Kansas, born in Dallas Texas and descendent of Scottish General Angus Black Mackay first Chieftain of the Mackay clann of Caithness Scotland and leader of the Hundred years war , and Margaret Louise Beem of Shawnee Mission Missouri, former government archives record keeper, land baron and current Master Artisan, descendent of Lord James Hamilton married to Princess Mary, daughter of King James II. Micheil has Sired a Great Daughter Angel Marie McCoy born in this day of the lord the thirty first day of July 2003. Lord MhicAoida's greatest desire is to join the ranks of the Order of the Thistle. Scotland's highest knightly honor for those who have contributed to cultural society.
Sir Micheil MhicAoida (Eilean Donan Castle)
Sir Micheil MhicAoida the warrior
Raised between the United States of American and Scotland. Graduate of Military Academy at Camp Robinson, North Little Rock Arkansas and University of Drury at Springfield Missouri. Entering Military service in the USA Army in 2001 for active duty serving in the elite 75th Ranger Battalion, Later being assigned to the 39th light infantry and then 142nd field artillery. Micheil's primary military occupational specialty was Infantry and supporting specialties in Military Police, Supply Specialist and Small Arms Repair Technician. Micheil's Post military career he served as a peace officer in Missouri serving in patrol, investigations, domestic abuse and controlled substance. When not supporting law enforcement duties Micheil has offered his services as a warrior to the US, British and French Government leading men in the numbers up to two hundred and forty in hazardous territory including Columbia South America, Peru South America, Turkey, Israel, Jordan, Kuwait, Iran and over 28 months alone in Iraq. Sir MhicAoida lives his life by a warrior ethos and code of honorable conduct and chivalry to the highest degree. While in Iraq the former issued the Title Knight of the Clann Mackay in 2006 for charity and dedication to Scottish, Celtic heritage in a war zone. Micheil is a former knight of the Society of Creative Anachronisms, and has participated in a LARP recreation of the battle of Culloden and the 100 years' war and War of the Roses. Micheil has participated in Highland Games and the Medieval reconstructionist movement.
Sir Micheil MhicAoida (Eilean Donan Castle)
Sir Micheil MhicAoida on faith
Sir MhicAoida does not follow the Krisjian belief system. Sir Micheil is a proponent of tradition Celtic pagan DRUID re-constructionism and believes in following the path found common in his people of the Highlands of Albion. Micheil's High god is known as Cernunnos the High Horned one. Micheil is a Druid priest of the second of three levels and is a member of the Order of Druids Bards and Ovates. Micheil has declined to proceed to the next level of his Druidry training in the humble belief that there is always more to learn and you can always better yourself. Micheil's area of study is primarily Law, true Magick, Divination, Research and Healing.
Sir Micheil MhicAoida (Eilean Donan Castle)
Sir Micheil MhicAoida the Merchant and Culturalist
When not occupied with the former Lord Micheil MhicAoida focuses on a future for the Scottish people in America and bringing back heritage and culture of the Scottish Medieval lifestyle for the masses. This is accomplished by his merchantile service offering Scottish and Medieval goods at his business known as Highland Thistle and Arms along with his chain of Irish style pubs and eateries known as Celtic Traditions. Sir Micheil also focuses on a project known as ALBA NOC SCOTTISH MEDIEVAL LIVING HISTORY VILLAGE soon to open in Branson, Missouri United States of America. Which is as it sounds a Scottish Medieval Village with a castle and a jousting arena pubs, hotel, condos, museums, medieval items pro shop, Catholic chapel and Druids grove, Underground indoor pool, dungeon, armory, brewery, camping, events and a chance to LIVE THE DREAM.
Sir Micheil MhicAoida (Eilean Donan Castle)
"Twelve highlanders and a bagpipe make a rebellion."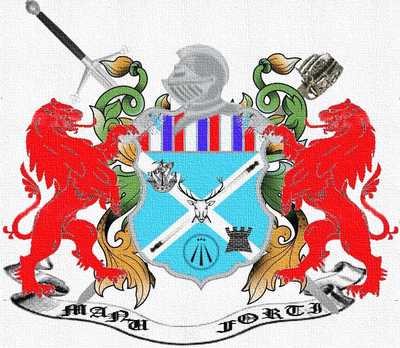 MhicAoida Coat of Arms Heraldry.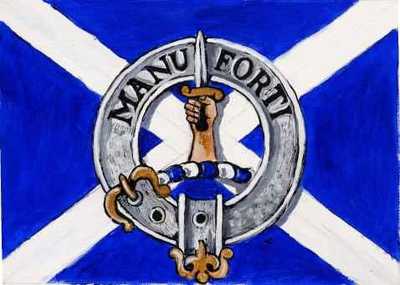 Mackay Clan Crest with Scottish National Saltire Flag!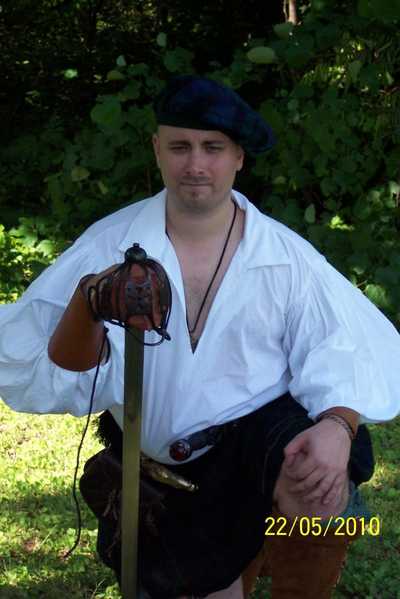 Sir Micheil MhicAoida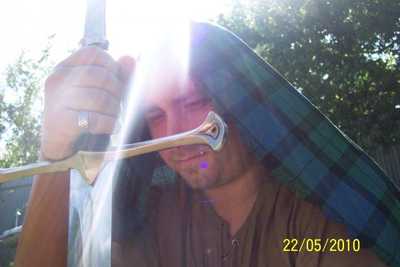 Sir Micheil MhicAoida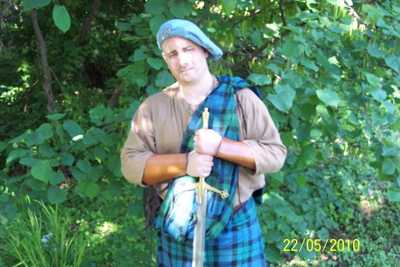 Sir Micheil MhicAoida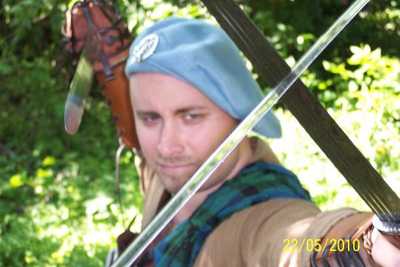 Sir Micheil MhicAoida in combat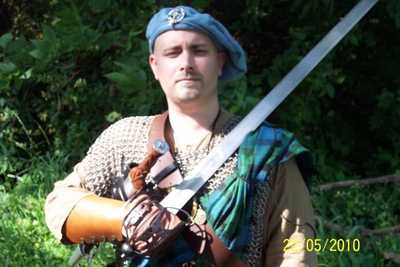 Sir Micheil MhicAoida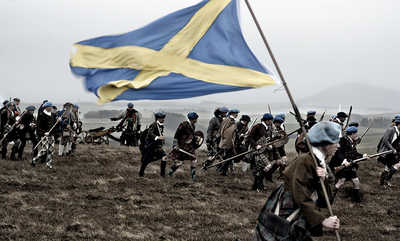 Battle of Culloden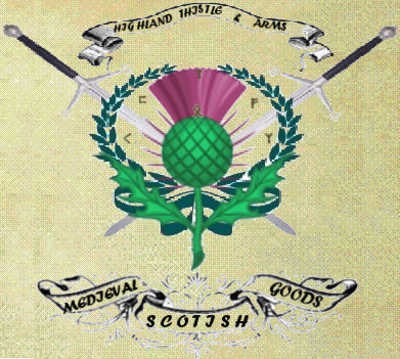 Highland Thistle and Arms Scottish goods.